Notre consultante Aurélie Piraud animera une formation sur le design-thinking à la Chambre de Commerce et d'Industrie Française à Hong-Kong en janvier 2020.
Les détails de cet événement sont ci-dessous (en anglais) :
Solve problems using a human-centred approach.
No matter your role or industry, you can benefit from the collaborative and customer-centric approach at the heart of design thinking. Unlock your creative potential and add this valuable skill for the modern workplace to your toolkit.
Details :
Date and Time : Thursday 16 January 20209:00 – 17:00
Location : French Chamber, 18/F On Hing Building, 1 On Hing Terrace, Central
Pricing : Members: 2900 HKD / Non Members: 3400 HKD
Key learnings
• Understand design thinking
• Design solutions
• Prototype and test your solutions
At the end of the day you will bring back some knowledge and practices you can deploy in your daily work.
Training description
Introduction: Design thinking
• A human-centred methodology: Understand what is design thinking, what are its objectives and why we use it.
Empathise with people
• Know the people you are designing for, so you understand their needs better.
Define a challenge
• Decide on who you want to design for and what you want to help them do.
Ideate possibilities
• Come up with different solutions that might be useful to people, there are no bad ideas!
Prototype your design
• Create a user flow and turn your ideas into interactive products.
Test your design
• Take your prototypes to your audience and get feedback.
The trainer
Aurelie PIRAUD, Astrakhan APAC
Aurélie is specialised in project management, innovation management and agile methodology. She has coached top managers to define change management regarding current context and usage. She has also coached teams to help them define their product vision and design it. As an innovation consultant, she has conducted various projects in design thinking, agile methods for lean startups, and serious games. She advises clients on different areas: ideation and creativity, 'Management 3.0', change management, project management, raising awareness through good practices, and definition of digital strategy.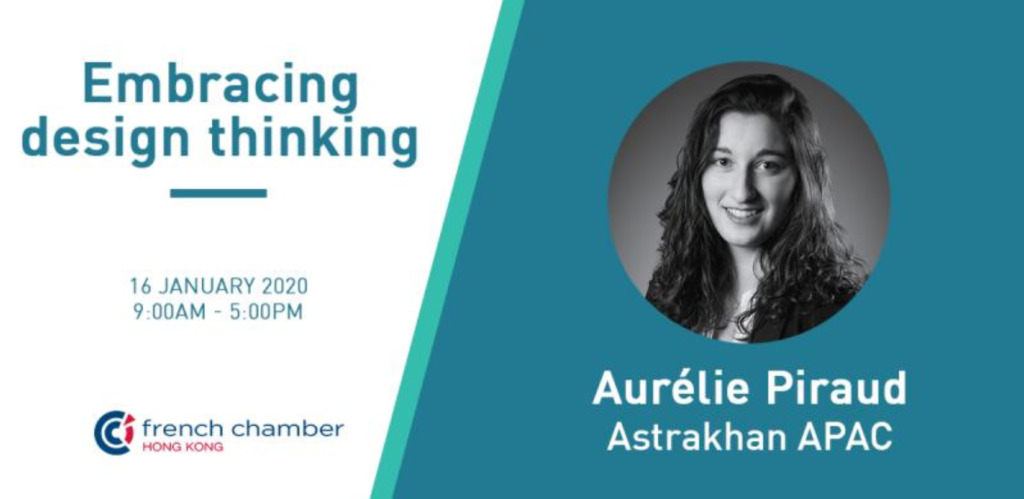 ---
Registration Policy
* An online registration is a confirmed booking.
* Cancellation must be notified at least 3 days before the event, otherwise no refund will be made.
* No-shows will be charged unless the event is cancelled by the organiser.
* When Typhoon 8 (or above) or Black Rainstorm Signal is hoisted, all events will be cancelled.